So a little over a month ago, S and I won a toy from
EdenFantasys
. I was pretty stoked, I never win anything, much less something really cool that we'd had our eye on. What we won was a brand-new (thank goodness, who'd want a used sex toy?)
Uma by Je Joue
. Now after some field testing, I'm ready to tell you all about it.
So the toy arrived a little over a month ago, and we've had several opportunities to test it out. First of all, some particulars. It's made of a food-grade silicone material, and is very firm to the touch. There is not much give at all with this product, so you don't want to be too reckless with it, or else someone may get hurt. As you can see from the picture above, the toy is curved and designed for G-spot stimulation. From my measurements it was 7" long, and
EdenFantasys
lists that 4" of the toy is insertable.
It is a rechargeable toy, and comes with an A/C adapter. We have charged the toy once and have not had to since. The controls for the toy are also where you put the adapter for charging. It attaches magnetically, but can come loose from the toy easily. I bumped the nightstand it was sitting on, and it did come loose. But if left alone, it will charge easily. Ours was fully charged in about 2 1/2 hours. We've used it three times since we received it, for about half an hour each time and haven't needed a recharge yet.
Okay, so each time we have used it S has been very impressed. What she has enjoyed most is the power contained within the toy. As regular readers of the blog know, we have been upgrading the toy chest and after having been used to toys that packed a little less of a punch, S has been blown away with the power. There are seven vibration setting for the Uma and five intensity levels. Thus far we haven't gotten beyond level 4 in the intensity, it is plenty for S. On our first use she made the comment that level 1 was still more powerful than almost any toy we've had in the past. I think that says two things about the toy; 1) it is pretty powerful and 2) we had some pretty crappy toys in the past. The vibration settings S has enjoyed the most so far are the constant, the quick pulses and the slow pulses. She's tried the other settings, but keeps migrating back to these three. If you enjoy powerful vibrations, I would think you would enjoy this toy immensely.
So as mentioned before, this toy is designed for G-spot stimulation. It is curved so that when inserted it will stimulate a woman's G-spot. I've read other reviews where women mentioned that the toy did not reach the G-spot properly. This was why I was a little nervous getting the toy, and was thrilled to win it at
EdenFantasys
. Because if it didn't hit S' G-spot then we wouldn't be out $100. Because of the firm nature of the silicone within the toy, it is not very flexible, so there is some risk. To my great relief, it is perfect for S' G-spot. When using it solo she has found a very comfortable place where it stimulates her G-spot. We have also found that when I thrust the toy slowly in and out of her, it can also further stimulate her G-spot. That is how she has enjoyed the toy most, with me thrusting it slowly in and out of her. We have used it on its own and with a clitoral stimulator as well. She loves both methods, but using a toy designed for G-spot stimulation with a clitoral stimulator separately have produced some really intense orgasms. She was also concerned that she wouldn't be able to achieve orgasm with just the toy alone, she usually needs some clitoral stimulation when using toys to achieve one, but during the two times we've played with it by itself, she has orgasmed each time.
The controls for the toy are pretty easy to understand, and for us have been easy to operate as well. There is a + sign that you hold down to turn the toy on, and then press to increase the intensity. There is also a - sign to decrease the intensity, and holding it for 3 seconds will turn the toy off. There is a third button in the middle that changes the vibration setting. S' only complaint with the controls was that you must cycle through the vibration controls to get back to a setting. Sometimes we would find a setting, like it, and then change to see what the other was like and we'd have to cycle through the rest to get back to the original setting if she didn't like it. The controls were actually very easy for us to control, but we've been playing together, where I can slide down and mash the buttons harder if needed. If playing solo, the controls could be difficult to change, especially in the heat of the moment. I would also recommend using a good amount of your favorite water-based lubricant prior to insertion. Do
not
use silicone-based lubricant on this toy, it will damage it.
Cleaning has been a breeze for us. We have a toy cleaner with some alcohol in it we spritz on the toy immediately after play, and usually I also wash it in warm water with some soap. I would not put it in the dishwasher as there is a motor inside this toy. It is waterproof, though we can't give an accurate assessment of its capabilities in that department as we have not tried it there yet.
The packaging is nice, though no bag was provided for storage. The box is somewhat large and many people won't be able to use it for storage, but we are. It fits perfectly in S' bureau drawer, where her favorite toys are stored for easy access.
So as I have done in the past with toy reviews, I'll rate it on a scale of 1-10. This would be a 10 for sure. If I'm nitpicking with the vibration cycle and no storage bag, I would give it a 9.5, but S assures me it's a 10. I'm excited to use it a lot more and believe it's going to be a "go-to" toy for us.
All photos courtesy of
EdenFantasys
.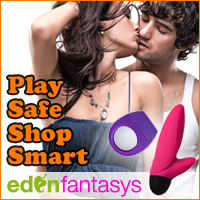 This post was sponsored by
EdenFantasys
.